2017-11-14 22:04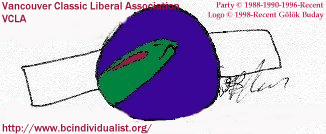 Or almost die petitioning…
See URL for more.
—
Gölök Zoltán Buday
2017-11-12 23:39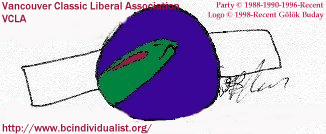 1. The Name
The name is the "Vancouver Classic Liberal Association" and in some aspects may be a "Vancouver-Hastings Riding Association" for the Libertarian Party of BC if accepted as such by the provincial party, but membership here does not imply BC membership and has no relation to the Feds, it encourages BC Party membership. The logo and name are the intellectual property of the Founder, Gölök ZLF Buday. If any BC Libertarian Signs are used, their logo belongs to them or whom ever designed it depending on how they play it.
2. The Function
To nominate Municipal Candidates who promote Liberty and aide in their campaigns by offering the much needed branding in our society. It also may nominate a Vancouver-Hastings Candidate under the VCLA for the BC Libertarian Party if they accept application.
3. Board Members
a) Founder is Gölök ZLF Buday
b) Mayoral Nominee – (2018) Gölök ZLF Buday
c) Council Candidate Lead Nominee – (2018 – Subject to member votes)
d) MLA Candidate if applicable – (Subject to member vote or Founder decision)
President – Founder for start.
c) VP –
d) Financial Agent – Founder till change comes in place.
e) Board – A Quorum of 4 more. Not including administrative office (President and VP who are only tie breaking votes.)
Members.
4. Office Duties.
a) All – To attend AGMs and meetings called by founder or president on pressing matters.
b) Founder – To amend constitution or agree or veto amendments, act as ethics officer.
c) President – To attend and mediate meetings, AGMs and only break an tied vote on matters.
d) VP – Sit in, when President is legitimately busy or become President if not legitimately busy also act as a Secretary, recording minutes.
e) Council Present and Vote on Constitutional Amendments that must be agreed with Founder, President and VP. Also tie break on policy for council campaigns and mediate meetings if President isn't available.
f) Mayoral Candidate: Will have his own platform and is running for an independent branch from council (President of Council).
g) Council Candidate: Presuming membership is great enough apply this. Each member will represent a municipal ward. Which can apply to chapters. So ideally there will be 10, but 5 min must sit to vote and present.
h) i) Members – Must live in Vancouver City Limits. The ultimate authority in their Wards of whom gets nominated to council (10 Candidates). The policy would be to dissolve School and Park Boards and make it all city business to further privatization that best reflects municipal goals so no Candidates will be ran in those.
Boundaries will be divided the best possible by the founder: 1. Hastings-Sunrise, 2. West End, 3. Downtown-False Creek, 4. NE-Main St, 5. South East, 6 South West. 7. Kits-False Creek 8. Pt Grey 9. Knight 10. Kingsway-King Edward. A map of this will be easier to set up when we reach 100 members and nominating is possible. Ideally 10 per Ward. When a ward can present the Founder and President with a choice Candidate an OK is made on the heads of the area membership.
Could say a Ward membership is an election committee for electing councilors that can reflect a local liberty movement(s). Could form Chapters that can also reflect themselves on a Provincial Party and Municipal Party EDA as VCLA #2. Founder will try to establish the boundaries within Provincial Riding areas. EBC's site info.
ii) Who can be a Candidate: Someone who is 18+ and lived in Vancouver for more than 6 months. Party can not nominate until reaching 100 members but can show support in manner of 3rd Party endorsement of an Independent. As viewed by the Ward Chapter(s).
Who can be a Provincial Candidate).pdf – A Ward Chapter such as Hastings-Sunrise (Prime Chapter) when reaching 75 members will nominate as a Constituency Association with the BC Libertarian Party if permitted and if 75 members are members of the BC Libertarian Party and within the Boundary that starts as North as Van Tech, South to the Harbor between the PNE and Commercial Drive (East Side only). If can with no one else standing, the Founder will run, if 75 members are not there (who can sign nomination papers) then an Independent must run. There is 1 more riding than wards provincially, so in one case 1 chapter can split on 2 constituencies (adding a .5 to a number) merging as one in a municipal election.
iii) Chapters or Wards Memberships will require 25 members min vote on and run Candidates, to be on the ballot as a VCLA Candidate the Party needs 100 members.
iv) Member Declaration: 1st time members, no charge, just need a sign declaration to Free Speech, Personal Property (including taxes) and Defense Rights, Right to be a Candidate without Conditions (as independent), Right to Refuse Medical Treatment and smaller Government with a goal of no or little-to-no Government. At least the first 100 members of the VCLA. The Provincial memberships are a Provincial Party matter. Even when or if a constituency association. When you become a declared member you also agree that all rights are for the individual, not collectives. After 100 members are reached, I (the Founder) will file papers and start taking tax deductible donations/member fees no greater than 5 bucks/year or 50/life. One can always offer non-deductible donations any time. A succor is always welcomed.
v) Send your name, address, e-mail, possibly social media addresses/websites, phone, and write out and sign the declaration via snail mail to VCLA c/o 203-29 Templeton Dr, City of Vancouver, V5L 4M9.
We encourage people to join the BC Libertarian Party as well.
5. Platforms…
No platforms will disregard the member declaration issues.
No platform will support instigation of aggression.
All platforms are encouraged to be Federalist-Republican (anti-monarchist with constitutional protections of individual liberty)
Preferably ask the question what has Government done for you, vs what it does to you.
—
Gölök Zoltán Buday